What blood pressure devices are best for my patients?
Are you ever unsure what devices are best to recommend to your patients for home use? First and foremost, devices should be on the Hypertension Canada's Recommended BPM Devices Listing. This assures that the suggested device is clinically validated for accuracy. Secondly, you want to assure that the patient measures their arm and purchases a device with the appropriately sized cuff.
Beyond those features, it becomes a preference on features that your patient wants.

Looking for a device that works for multiple people?
The Premium Blood Pressure Monitor (UA-767FAM) allows 4 different users making it great for a family.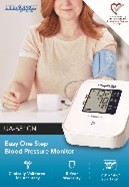 Looking for a simple, one touch device?
The Essential Blood Pressure Monitor (UA-651CN) only takes the press of a button to get the measurement.

Have a tech savvy patient?
The Wireless Blood Pressure Monitor (UA-651CNBLE) connects to the Heart Track app to automatically log and trend blood pressure measurements.