Hypertension Canada's Million Dollar Challenge
High blood pressure is the world's number one cause of death and disability. It kills more people than any other condition. Nearly 15 million Canadians today live with or are at risk for dangerously high blood pressure that leads to: heart disease, heart attacks, strokes, kidney disease, and even dementia. Canada has led the world in controlling high blood pressure for 20 years, significantly reducing chronic disease and fatal events for millions of people. Yet recent factors threaten to unravel Canada's progress, including declining investment to public awareness, education, and research, and crisis-level antihypertensive drug shortages that affect the nearly 5 million Canadians relying on them. Hypertension Canada's Million Dollar Challenge is an online campaign that runs from December 2019 until September 15, 2020, seeking to raise critically needed funds to strengthen blood pressure control and save lives, visit this page to read more.
Your donation will be used to:
Get Canadians to measure their blood pressure and prevent complications before they start;

Educate people living with high blood pressure with the know-how to manage it;

Ensure Canadians receive evidence-based care to best prevent and treat high blood pressure;

Advocate for solutions to persistent antihypertensive drug shortages for those who need them;

Enable investments in hypertension research.
For more information on how your donation will help, read Hypertension Canada's Impact Report here. To make a donation now, click here.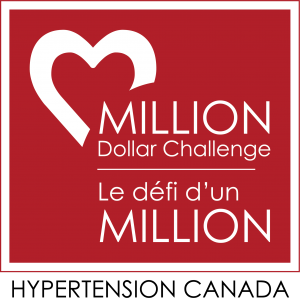 Why is your help needed?
High blood pressure leads to stroke, heart attacks, heart failure, dementia, kidney damage — plus vision loss, sexual dysfunction, and other debilitating conditions. The economic burden of these conditions is crushing, but even more so are their tough personal costs of disease, disability, and in so many cases, life itself. 
The good news is that reducing blood pressure reduces the risk of these complications in a highly cost-effective manner. This year marks the 20th anniversary of the Hypertension Canada Guidelines, the evidence-based road map for the professionals who treat hypertension. With just a little over one million dollars annually invested into the Guidelines over 20 years, the health care system has been saved over $4.5 billion in stroke and heart failure prevention alone. Despite this achievement, the current environment threatens to unravel Canada's world-leading progress in blood pressure control, and puts 15 million Canadians at risk.  That's why your support is so important. Together, we can continue to prevent, detect, and manage high blood pressure, and ultimately, save lives. 

Official tax receipts will be provided for all eligible donations.