Congress
Canada's largest national scientific and educational conference of its kind, the Canadian Hypertension Congress, is back for its 9th year May 13-14, 2021, in a virtual format. The Congress incorporates today's needs and expectations of scientists, researchers, and clinicians, we are delighted to invite you to be part of its success!
Over two days, through presentations, debates, and discussions, we showcase cutting-edge research abstracts, address knowledge gaps head-on, and inspire innovation through open exchange to drive improved health outcomes for people living with hypertension, and more. Responding to the needs of our primary care community, this year's theme is "Regaining Control". Our sessions will address the most-requested topics in hypertension among these adjacent conditions for whole patient treatment. The core topics include:
• Declining blood pressure control
• Sex and gender differences in Hypertension
• BP targets and thresholds
• Hypertension and diet
• Measurement issues in hypertension
• Home BP measurement and virtual hypertension management
• Drug Shortages
• Hypertension in older patients
In addition to that, there will be discussion on E cigarettes as well as Omega fatty acids and cardiovascular prevention.
This Congress brings together leading minds across disciplines and specialties: more than 300 of Canada's leading hypertension scientists and researchers, physicians, pharmacists, specialists, nurses, dieticians, health experts, and public health officials. Concurrently, our third Young Investigator Forum will provide 60 trainees with knowledge and skills development support to best equip them for a bright future in hypertension.
We hope you will join us and be part of our collective success.
Registration Packages
All packages include access to all sessions spanning both days. All session recordings will be available for replay for 3 months post event.
Member Packages
$75 CAD – Hypertension Canada Individual Members (verified via email provided)
Free – Hypertension Canada Associate/Student Members (verified via email provided)
Non-Member Packages
$200 CAD – Non-Members
$175 – Become a Hypertension Canada Individual member today and receive full access to the Congress ($100 membership, $75 CHC Ticket)
$25 CAD – Become a Hypertension Canada Associate/Student member today and receive complimentary access to the Congress ($25 membership, complimentary CHC Ticket)
Call for Abstracts
Hypertension Canada invites you to submit an Abstract for Presentation at the 2021 Canadian Hypertension Congress (CHC) and Young Investigator Forum. The committee will be accepting submissions of abstracts for inclusion in our Basic Science and Clinical/Population Science presentations. Abstracts that are accepted will be invited to give either an oral or poster presentation to be delivered virtually at the congress, taking place May 13th -14th, 2021. The deadline for submission is April 15th, 2021 at 11:59 pm EST. Virtual presentations will be published in the conference proceedings and available on the Hypertension Canada website.
In addition to the opportunity to present your work, the CIHR Institute of Gender and Health is offering a $250 award for the poster or presentation that best incorporates sex and gender considerations. Please ensure to indicate in your submission email if you would like you work considered for this award.
Informed and driven by our scientific and primary care communities, the Canadian Hypertension Congress (CHC) integrates basic science, population health, and clinical knowledge in hypertension with the most-requested topics in hypertension and adjacent conditions for whole-patient care, including cardiovascular disease, diabetes, thresholds & targets, kidney disease, and obesity.
The Canadian Hypertension Congress (CHC) is the only scientific meeting designed specifically to enable the development and exchange of evidence-based information on hypertension and related conditions for improved patient outcomes. Emphasis on the difficulties and strategies in virtual care and management of hypertension during the global pandemic will be explored.
We look forward to receiving proposals in response to the call and are happy to respond to inquiries from interested parties. Please submit all submissions via email to [email protected]
Abstract Submission Guidelines:
Abstract title: Please choose a brief title that clearly indicates the content of the contribution.
Authorship: Name, highest educational degree obtained, institution, business affiliation and email address. Presenting author must be listed as the first author.
Co-authors: Names, highest educational degree, their institution/business information.
Abstract: Please ensure your abstract contains a maximum of 300 words and one figure or table if applicable. Abstracts must be submitted with the following sections:

Objectives
Methods
Results
Conclusions

Delivery preference: Indicate your preference to present your abstract in either a 15-minute oral presentation or a poster presentation.
Indicate if you would like your work considered for the CIHR Institute of Gender and Health $250 award (Optional).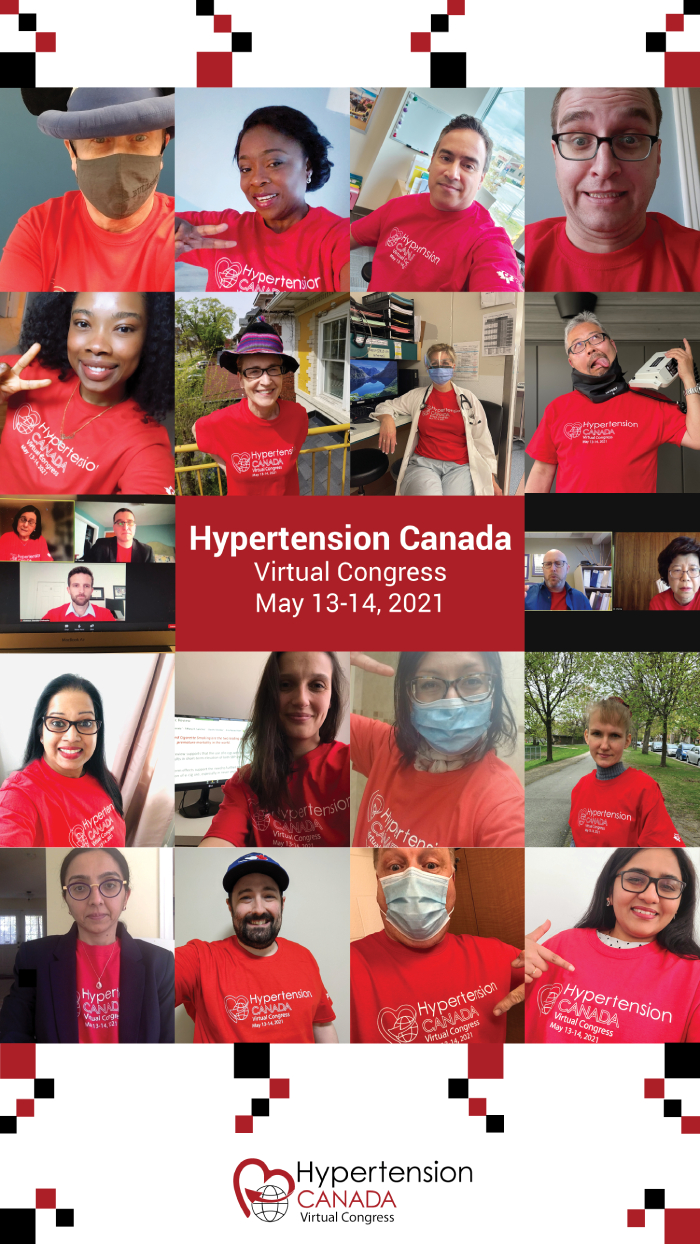 Hypertension Canada would like to recognize Mrs.Chibuamam Ilechukwu, who joined us all the way from Nigeria! We appreciate your support!